Here are the top 5 KPIs your eye care practice needs to focus on most!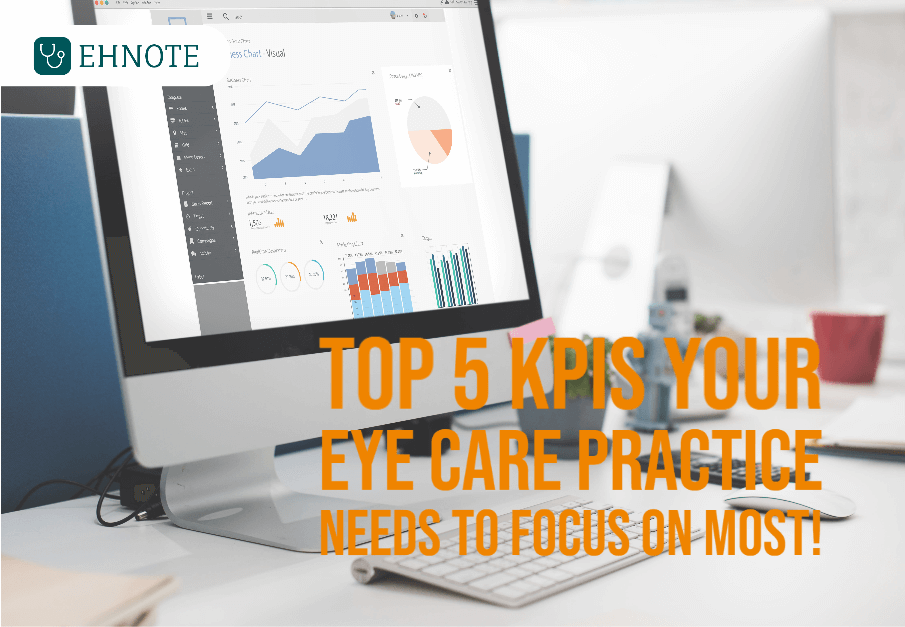 ---
Healthcare organizations have been feeling the pressure of budget constraints and the need to keep up with ever-evolving policies, processes, and regulations. Therefore, healthcare organizations need to establish clear strategic objectives and ensure they are achieved.
So, how do you make sure your business goals are met? You track and measure them. After all, measuring is the key to improving outcomes.
Metrics, or key performance indicators, are essential performance measurements that help you determine how well your eye care organization or practice is doing. It is imperative that KPIs in healthcare are clearly defined, quantifiable, clearly communicated, and part of your overall strategy.
Are you looking for ways to improve your eye care organization or track your progress on these changes?
Here are the 5 critical KPIs that'll help you improve your practice performance:
1.The total number of patient visits: Keeping track of the total number of patient visits will help you gauge how many patients come through your doors on average. It can be calculated in several ways, such as per doctor, per day, or per month. You can then calculate things like how many visits each physician completes each year, which physicians see the most patients, and more, based on these statistics.
2.Staff-to-patient ratio: A hospital's staff resource level measures the capacity of the organization to serve patients over a specific period. Higher staff-to-patient ratios imply a superior ability to provide care and treatment to patients. Therefore, your eye care practice needs to assess the staff-to-patient ratio in order to improve the quality of patient care and ensure the sustainability of the workforce.
3.Average claim processing time and cost: You can calculate it by taking the mean of the time spent and the amount reimbursed by a hospital on insurance claims. If the amount is low, the hospital receives payment more quickly and has lower treatment fees. This metric measures how efficient a hospital's revenue cycle is. The decreased rate indicates that a hospital spends more time with its patients than keeping records or doing paperwork.
4.Inventory items consumption: How many IOLs does your eye care practice need? You can measure the utilization of specific units of equipment at your facility. Due to the high cost of specialized equipment, this is an essential parameter for cost control. As over-utilization of equipment may increase maintenance costs and cause unplanned downtime, potentially delaying treatments.
5.Referrals Tracking: What are the sources of your referrals? Are they friends or family members? Other physicians? Advertisements on social media? Ads on billboards? Knowing this will help determine which patients need eye care in the future. You can track your referrals, monitor whether the numbers are increasing or decreasing, and focus on improving referral relationships.
Without KPIs, a company's performance can become unclear, and comparing the company's progress over different periods becomes difficult. KPIs depict the direction in which an organization is heading. These KPIs will help improve some essential aspects of your eye care practice in the long run.
EHNOTE utilizes the data generated across all the touch-points of your eye care practice and provides you with real-time, actionable insights that provide a 360-degree view of all the aspects of your healthcare organization in order to address areas of concern and implement improvement measures.
It tracks the patient flow and provides you with a clear view of the patient journey across multiple touch-points in order to assess patient wait time, no-show rate, and more.
Improve the staff-to-patient ratio by utilizing advanced technologies to assist patients who do not need to be addressed personally by your staff.
Integrated billing and claim processing system along with an extensive range of advanced solutions to get paid faster and improve revenue generation.
Real-time inventory reports to track stock consumption, transfers, and expired items.
Integrated referral management system to improve lead generation and increase patient base.
Register for a free demo now!Click here.