10 Ways Health IT is Transforming Healthcare in India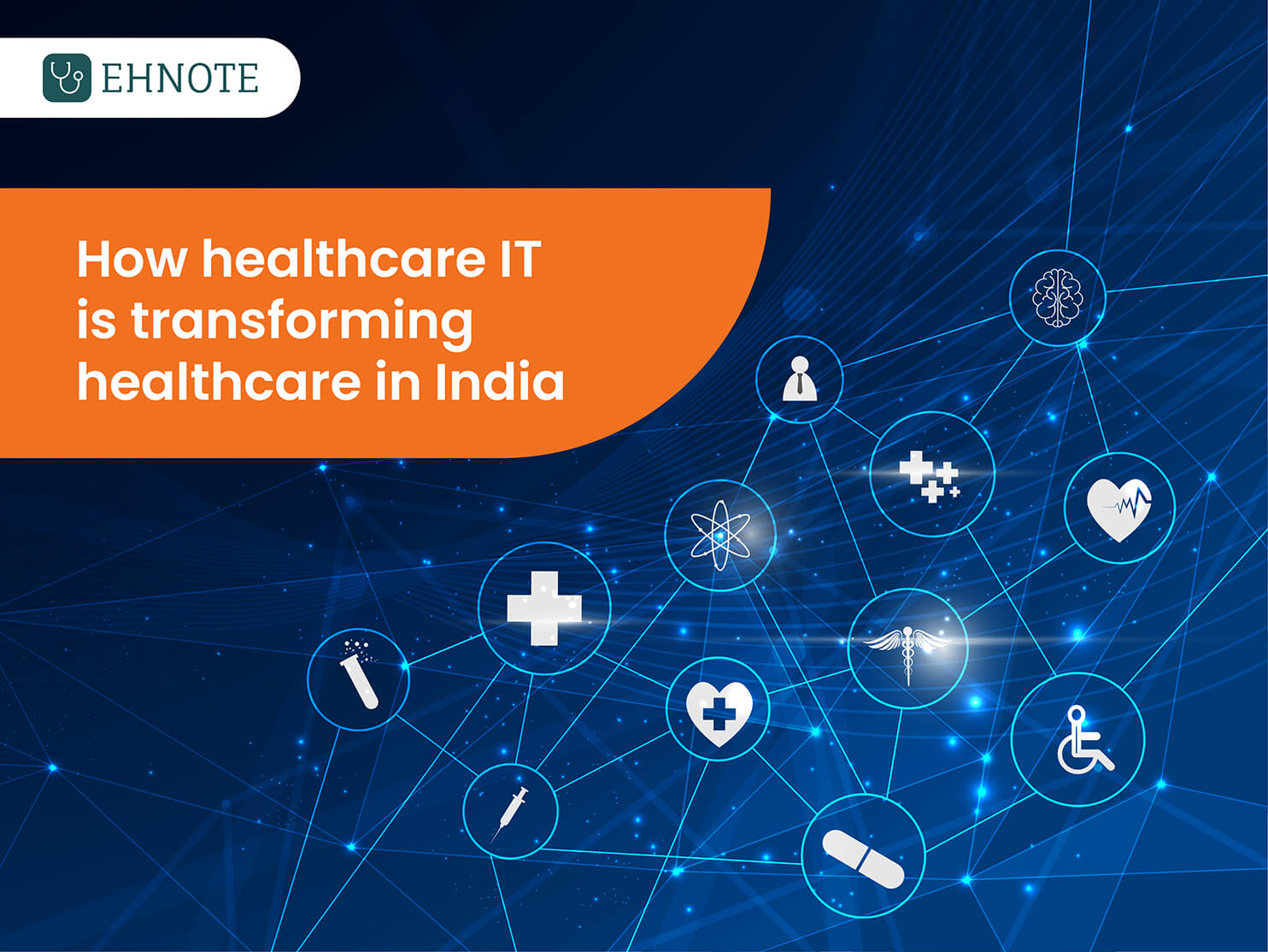 ---
Information Technology is fast making inroads in every sphere of life including the healthcare sector. From hospital care to clinical research, drug development, insurance and prediction of deadly diseases like heart ailment, Artificial Intelligence or AI applications are proving to be boon to reduce spending and in improving patient outcomes in the healthcare sector.
One of the fastest growing industries in India is healthcare having the second largest CAGR in healthcare (11%) among all BRIC countries. By the end of 2020, the healthcare sector is expected to reach $280 billion in terms of revenue generation.
The IT adoption is already gaining prominence in India's healthcare industry with cumulative efforts by both the public and private sectors. The rising number of digital health startups is resulting in setting up innovation centres across India catering to the needs of healthcare industry. Digitizing patient profiles and health records such as through EHNOTE EHR solutions, are improving the overall diagnosis and patient care.
The ten ways in which the information technology is enabling the development and creation of healthcare solutions include-
M-health

The M-health also is known, as mobile health is one of the largest sectors within digital healthcare in India that is set to rise to more than Rs.5, 184 crores by the end of 2020. Studies are showing that about 68% of doctors in developing economies like India are already recommending m-health and 59% of patients are already using it. Mobile applications are connecting doctors to patients thereby enabling remote consultations forming major segments within m-health.

Remote Diagnosis

Low-cost portable innovations are being developed in India to cater to the needs of the vast rural population in India. The products or equipment, services used for remote diagnosis are helping to increase access to healthcare for remote and rural populations through the point of care diagnostics, teleconsultation, and e-prescription capabilities.

Telemedicine

Telemedicine is the use of information technology for remote diagnosis, monitoring and education. India's telemedicine market is expected to rise at a CAGR of 20% during the financial year – 2019-20 and is valued at US$100 million by 2020. Telemedicine is helping to bring down the patient costs as well as in providing care to those living in most remote areas.

Digital and social connectivity

The emergence of social media in India with the average persons in India spending 25% of their time on social networking sites is resulting in the formation of patient support communities and knowledge portals on the patient side. The setting up of the National Optical Fiber Network by the Indian government is aiding in the expansion of e-health.

Wearables

Wearables in healthcare are those devices that track diet and fitness activity. The overall healthcare wearable market in India is valued at Rs.30 crore and is expected to increase in value with wearable technology in India is expected to increase.

Artificial Intelligence and robotics

Rising adoption of AI and robotics based applications is enabling bridging the gap demand-supply gap between patients and doctors. AI is capable of solving problems of patients, doctors, hospitals and the overall healthcare industry.

EHR – Electronic Health Records

Electronic Health Records or EHR like EHNOTE is helping medical professionals in India to make informed diagnosis thereby reducing the risk of errors. These EHR solutions are also helping in securing the e-pharma supply chain against the intrusion of counterfeit, spurious and expired medicines.

Wireless RIFD technology

The recent advances in wireless RIFD technology is resulting in faster pace and scale with which digital healthcare innovations are emerging. These technologies are offering greater accuracy, transparency in accessing the data in real time thereby avoiding manual tasks.

The Internet of Medical Things or IoMT

The Internet of Medical Things or IoMT is a connected infrastructure of medical devices, software applications, and health system and services. IoMT brings together people, data, processes and enablers to deliver improved patient outcomes more efficiently. India's healthcare system is now moving towards it.

Blockchain Technology

Across the world, blockchain has gained popularity in offering solutions for health data management and health information exchange. Blockchain enabled interventions present an opportunity for making health data management and information exchange seamless and integrated across the various stakeholders.
With the Indian healthcare ecosystem, adopting blockchain now is a time to establish a countrywide information exchange of EHRs like EHNOTE at the very outset.