Transition to EHR software making strides in eye care practice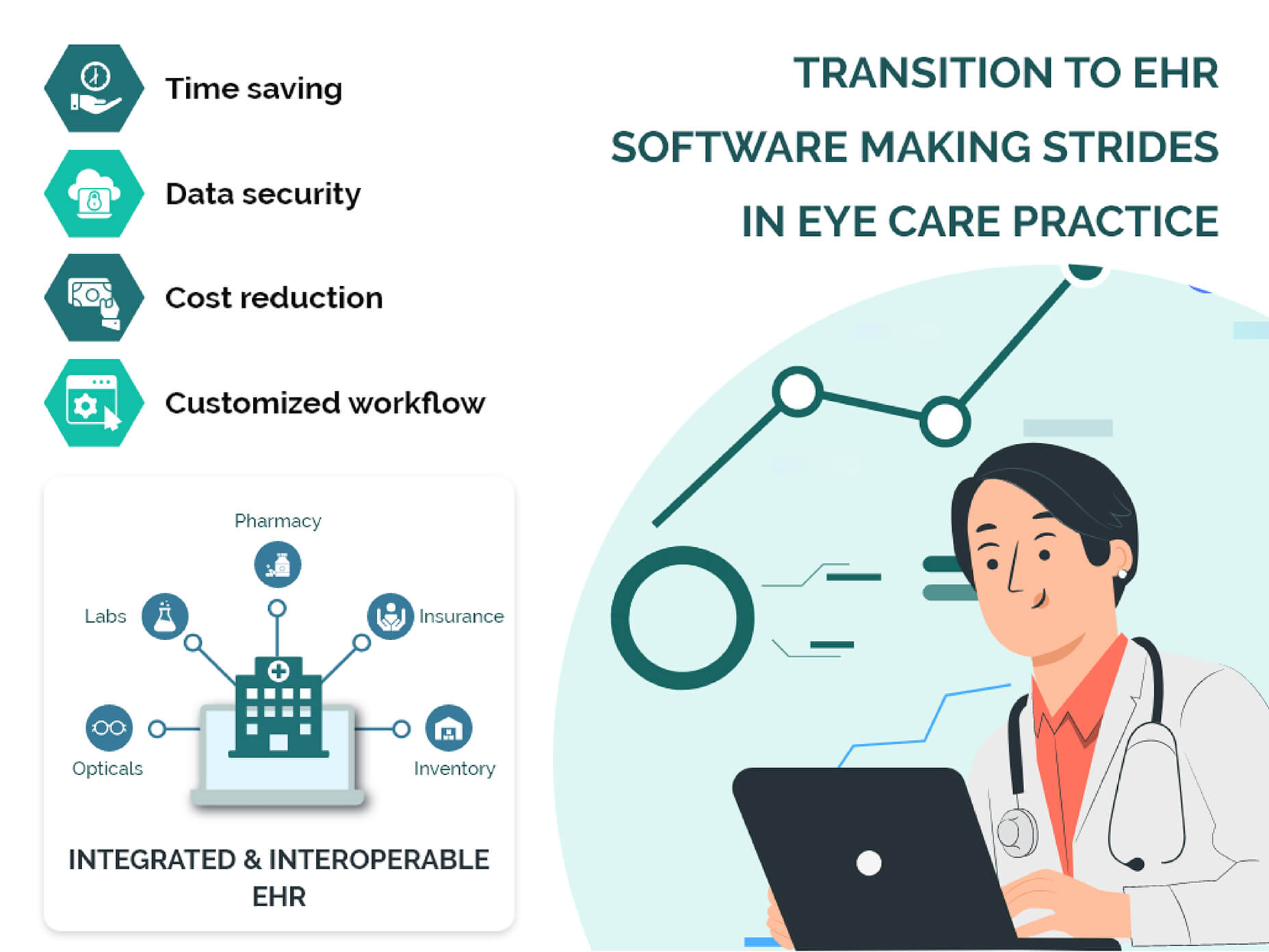 ---
Are you planning to switch to EHR software?
Whether your eye care practice should opt for an EHR software is a question that arises often. Recent trends in technology state that, EHRs are the 'wave of the future' in the Healthcare Ecosystem. Well, there are no right or wrong answers, as different people have different viewpoints.
Gone are the days of running towards a dusty-old MR department to find a stack of paper files, when a patient walks in through the doors of an eyecare practitioner's office. Extracting the required patient information from a bulky stack of files, leads to drastic interruptions in the workflow, along with a bunch of frustrated staff members.
A Cloud-based Software contrarily provides diverse approaches towards establishing a streamlined Information Technology Infrastructure, such as a customized interface for safe acquisition, utilization and storage of patient data, interoperability, quick accessibility, and analytics for informed decision-making.
5 Reasons how switching to EHR software can enhance your eye care practice.
Let's have a brief insight into the factors inspiring to adopt EHR software, to help your eye care practice breakthrough the redundant paper-based medical record system.
Timesaving: Chasing charts to unravel patients' health information, from a massive stack of paper records is indeed time-consuming. On the contrary, the Big data management with ease on a customized platform, suited to your practice's needs, helps save a significant amount of time. Simplified payment methods integrated with automatic insurance claim facilitate organized workflow.
Cloud Computing with Automatic Up-gradation, aiding in eliminating hardware installation, timely Hardware Maintenance and Up-gradations, Manual Software Up-gradations, you can utilize saved time and staff to improve the care quality.
Data security: Significance of information technology has increased prominently in the healthcare sector, which requires the deployment of a platform to assist in easy storage and access of patient health information, in doing so, choosing the right platform always hitches on data security concerns.
The question remains, how to safeguard your patient data?
Well, EHNOTE is the answer. A leading HIPAA complaint, Cloud-based EHR Software for Ophthalmology. Safely stores your patients' data on a Cloud-based-server, providing data access at your fingertips.
Effective cost reduction: An EHR software, such as EHNOTE, is deployed at your eye care practice as, Software-as-a-Service (SaaS), where you'll only pay annual subscription charges instead of an upfront capital investment required to install a Client-server-based Software, and it's Up-gradation costs as well.
Artificial-intelligence powered Cloud-based EHR Software liberates your eye care practice from all kinds of IT Investments & Operational burden and in turn keeps you in tandem with technology through its timely Automatic Up-gradations and latest integrations at absolutely no extra costs.
Customized workflow: An EHR Software with customizable interfaces lets you customize the data elements on your screen, to fit your preferred workflow. Self-Customizable EHR Software helps your practice meet the needs and respond to the challenges effectively.
EHNOTE provides you with an intuitive experience with Specialty-specific tools, user-friendly interfaces, templates, and auto-fill suggestions, where you can manage Big data with ease.
Interoperability and information accuracy: Interoperable EHR Software enables your eye care practice to transmit and receive patient data in a useable etiquette.
Interoperability helps improve seamless coordination among eye care practices and reduces the duplication of tests, and errors. Also, it provides optimized patient care with complete and accurate information exchange between Ophthalmologists.
Conclusion
Improved and quality care is the motive behind every eye care practice, but the excessive stack of paper files at your back office can make it very challenging to provide the care your patients deserve.
The bottom line is that eye care practices need a platform to acquire, utilize and store patient data safely, with the ability to exchange accurate information regarding patients' health among Ophthalmologists, where patients can also have electronic access to their health information.
A Cloud-based EHR Software such as EHNOTE can satisfy the spectrum of needs to establish an organized Health Care Infrastructure.
Want to get rid of the struggles involved with patient medical records management?
Visit. https://ehnote.com/